To honor the memory and legacy of Dave Warner, A.C.T. will host "tribute and testimony" virtual (via Zoom) get-togethers at the following dates and times: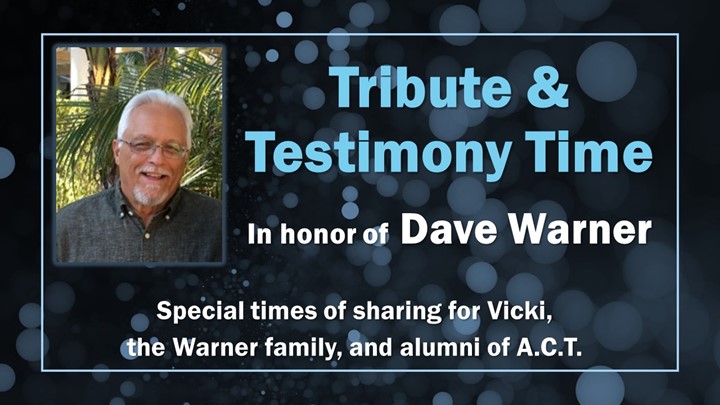 The primary goal of these meetings is to encourage Vicki and her family by allowing ACT alumni to share tributes about Dave, and testimonies of how ACT and the Warners have left a lasting legacy in their lives.
Secondly, at the end of each meeting, a short update of the current ACT ministry will be provided, along with an invitation to pledge or donate to the discipleship development fund started in Dave's honor.
REGISTER TODAY FOR ONE OF THE TRIBUTE AND TESTIMONY VIRTUAL GATHERINGS.
ACT DISCIPLESHIP DEVELOPMENT FUND
To honor Dave Warner, his nearly 20 years of faithful and hugely impactful ministry to ACT, his family and their numerous contributions to the ACT ministry and the worldwide church, and his never-ending passion to fulfill the great commission of Jesus Christ, the Board of Directors of ACT, Inc. has officially created the "ACT Discipleship Development Fund".
Interest gained from this perpetual endowment fund will be used to directly support A.C.T. students being discipled through internships, mission trips, and similar projects.
Matching Fund:  Currently at $10,500
Discipleship Development Fund:  Currently at $0
Donations given to the fund, up to amount in the matching fund, will be matched dollar-for-dollar by those who have pledged to the matching fund.  So, for example, if you donate $300 to the fund, your amount will be doubled and $600 will be added to the fund itself.
ACT is requesting that all fund donations are given in addition to existing commitments to ACT and any other ministries/churches.
Donate to the Discipleship Development Fund

scan for link to payment center