We love college students!
Active Christians Today (ACT) is a non-denominational campus ministry based in NW Ohio. We are an officially recognized student organization at both Bowling Green State University and The University of Toledo. We are associated with a national organization of college ministries called The Association of College Ministries. ACT has been loving college students in Jesus name since the early 1970's.
Our mission is to Encourage, Equip, and Entrust students to God's global mission. Our audacious prayer is that every graduating student would leave our ministries as fully equipped Jesus followers and active participants in God's life changing movement happening both locally and globally.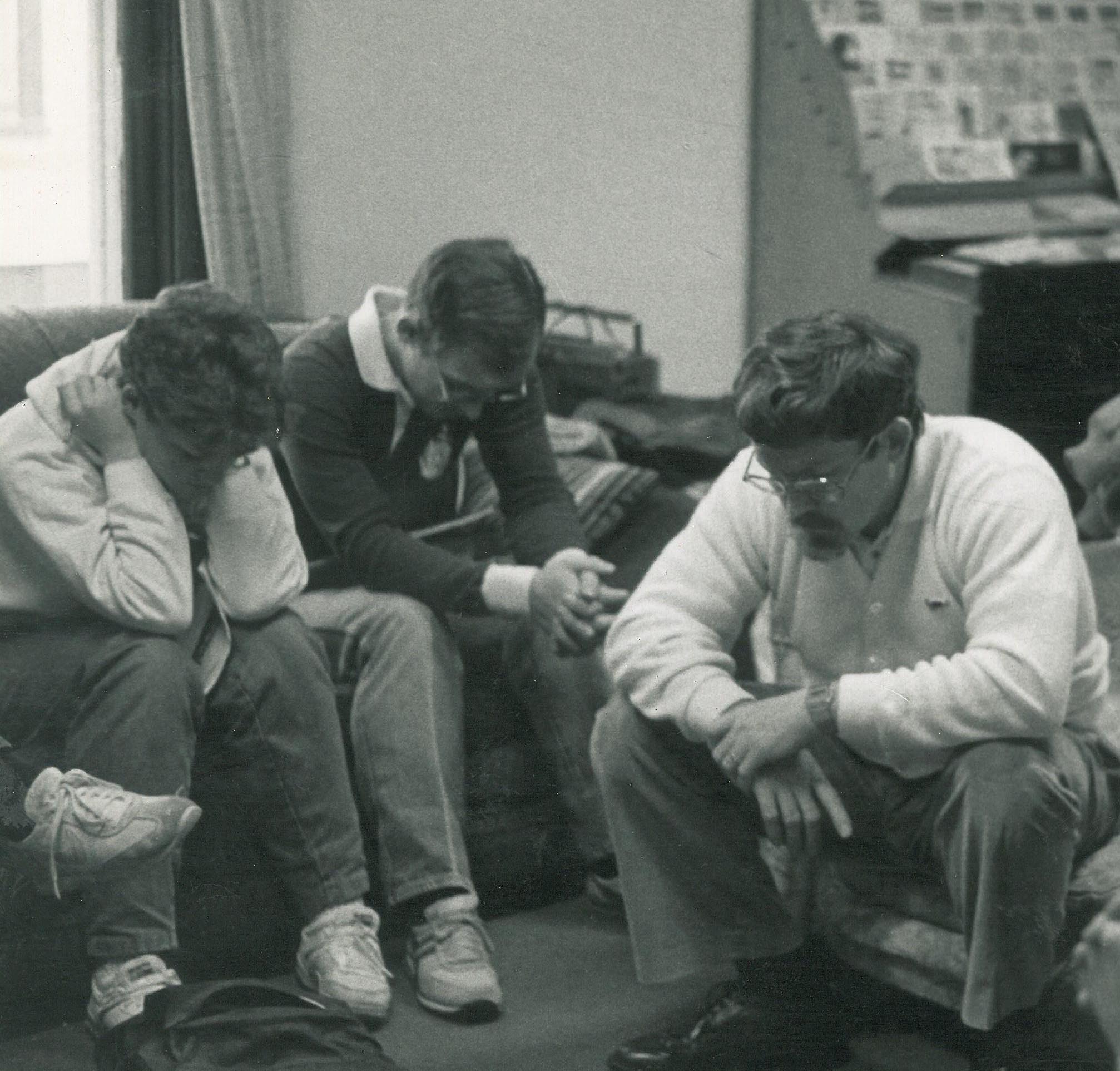 How We Got Started
ACT has always been a ministry of faith. In the early 1970's when the ministry began, it was a step of faith that led Darrel Fyffe, a faculty member at BGSU and a group of men to move into what was mostly uncharted territory. As one of the very early Campus Ministries, there wasn't a "how to" book available and so they stepped out in faith and launched what became a successful campus ministry in every regard.
In 1973, another step of faith was required when Bruce Montgomery was called as the first full-time Campus Minister. With virtually no funds, Bruce came on board and eventually was able to raise what was needed to be a full time staff member of a Campus Ministry.
Not very much later, Steve Schertzinger joined the team. Again, ACT stepped out in faith and believed that this was the move that God wanted them to make. And it proved to be correct. According to Douglas Dickey in his book "Campus Ministry", those two built a campus ministry that was "one of the strongest in the nation".
The UT Ministry begins and grows!
Then came the ACT ministry at the University of Toledo. Jim Nichols worked with a group of students, while he was the minister at Central Christian Church in Toledo that became the core group of the new ACT ministry at UT. ACT soon welcomed Bryan and Amber Rowoth to lead the ministry at UT. But sadly, three short years later they were tragically killed in a car accident in the summer of 1984. The Lord brought Steve and Lee North to UT. Through their ministry, the ACT ministry at UT flourished. It was under Steve's direction, in 1991, that the students stepped out in faith and took their first trip to Haiti.
The ministry continued
The ministry at BGSU welcomed Dewey Thackston. Following Dewey, in 1995 ACT welcomed David and Vicki Warner to BGSU. David would go on to lead ACT at BGSU as well as Executive Director for ACT for over 20 years!
Back at UT, after Steve and Lee's departure from UT, ACT welcomed Brian and Kendra Mizer. The Mizer's were followed by Jeff and Lisa Lyon. After Jeff's departure, ACT at UT was led by Luke Gilkerson. In 2008 UT ACT welcomed Dan and Anna Wearsch. After Dan left, Dave Warner helped the UT ministry for a season along with UT ACT alum, Cyndi Ferrell, who served on staff at UT for several years. Scott and Karen Weaver joined the UT staff during the summer of 2015 and continue to serve there today. Scott is an alum of ACT at BGSU!
Where We Are Now
In the summer of 2016 ACT welcomed Don and Michelle Williams to BGSU. Both Don and Michelle are UT alums and were students when Steve North was their campus minister. The current staff of ACT at UT/BGSU are all ACT alums! "We are humbled by those who have come before us and are excited to see what the Lord will do through ACT in the years to come!" 
We make every attempt to teach the truth as found in the Bible. We always seek to understand what God's Word says about the important matters of faith. While we cannot compromise on essentials of salvation, we recognize that Christian people can sometimes have differences of opinion over certain non-essential issues. We value the freedom we have in Christ to hold these differences in a spirit of love. We have attempted to put the teaching of Scripture on certain topics in understandable language. Please recognize that the words of Scripture are more important than the words we have chosen. We welcome you to join us as we seek to understand God's Word and apply it to our lives.
Please understand that these statements are an attempt to put into writing, what our hearts and minds feel and believe. They are in no way intended to give a full explanation of the topics listed.
God the Father
We believe in one God, the Creator of the Universe and the Giver of Life. God is an all-powerful, all-knowing, and ever present spiritual being. He is truthful, faithful, loving, good, patient, just, merciful, holy, and righteous. As Ruler of the Universe, God reigns supreme over nature, history, and human life. (Deuteronomy 6:4-5; Hebrews 11: 3; 2 Corinthians 13:14; Acts 17:24-28)
Holy Spirit
We believe in the Holy Spirit, the presence of God in the lives of believers. The Holy Spirit has been given to us by God as a comforter, guide, teacher, and down payment on our eternal hope. The Holy Spirit recreates men and women, empowering us to live the new life to which we have been called. His work in us produces lives characterized by love, joy, peace, patience, kindness, goodness, faithfulness, gentleness, and self-control. Through His Spirit, God grants gifts and abilities to believers for the strengthening of the church. (John 14:16-17; Romans 8:9-14; Galatians 5:22-23; Ephesians 4:11-13)
Humanity
We believe men and women are created in the image of God and are completely dependent upon Him. The primary purpose of humanity is to glorify God and to enjoy a relationship with Him. Unfortunately, all men and women rebel against God's standards and deserve the separation from Him that sin brings. Reconciliation with God is only available by His grace for salvation and new life. (Genesis 1:26-27; Psalm 23; Mark 12:29-30; Romans 3:23-24)
Salvation
We believe in the salvation of humanity by the grace of God through faith in Jesus Christ. By His death and resurrection we are declared righteous in spite of our sins and reconciled to God in spite of our separation from Him. Salvation is appropriated through personal faith in Christ, which is marked by true sorrow for sins, confession of Christ as Savior, and baptism into His name. Salvation is the assurance of an eternal future with God and a meaningful life in the present. (Romans 3:23-26; Ephesians 1:13-14; Acts 2:38-39; Romans 10:9)
Eternity
We believe in the present reign of Christ in heaven and over the earth and that the kingdom of God will be made complete when Christ comes to earth again. All people will be judged by Christ. Those who belong to him will spend eternity in his presence, which is Heaven. Those apart from him will spend eternity outside of his presence, which is Hell. (Matthew 25:31-46; Revelation 20:11-15, 21:1-4)
Jesus Christ
We believe in Jesus Christ, the Son of God and co-equal with the Father. Though Jesus lived an uncorrupted human life on earth, he was murdered on a cross by his own people. After three days, Jesus came back to life, demonstrating his power over sin and death. He later returned to heaven with the Father, and now reigns in heaven, interceding for us until he comes again. He is the only way to the Father. (John 1:1-3; 14,18, Acts 2:23-24,36; 1 Timothy 2:5; John 14:6)
The Bible
We believe in the authority of God's Word as it is recorded for us in the Bible. This revelation from God has been inspired by the Holy Spirit and is entirely true. Scripture is useful for teaching, preaching and training in faith. God's Word is the norm and standard for all subsequent Christian teaching. (2 Peter 1:20-21; John 17:17; 2 Timothy 3:16-17)
Communion
We believe in the declaration of forgiveness established by Jesus through communion. Each participant may know of the forgiveness offered to him or her through the body and blood of Christ. But communion is not just recognized in the church as a reminder of his death for us, it is also a reminder that Jesus will one day return and take us to live with Him for eternity. (Matthew 26:26-28; Luke 22:19-20; Acts 2:42-47, 20:7; 1 Corinthians 11:23-29)
The Church
We believe in the Christian church, the community of God's people founded on the confession of Christ. Jesus is the head of the body, the universal church, which is united by its common faith in Him. The church participates in the worship of God, the fellowship and training of believers, and the spread of God's love in the world. The ministry of Jesus continues in the church as people love and help those separated from God and others. (Matthew 16:16-18; Ephesians 1:22-23, 2:19-20; 1 Peter 5:1-4; Acts 2:42-47)
Baptism
We believe in the demonstration of God's grace established by Jesus through Christian baptism. Baptism is recognized in the church as a mark of God's grace and personal faith. Through immersion, the believer participates in the death and resurrection of Christ and celebrates the grace of God for salvation. (Matthew 28:19-20; Romans 6:3-7; Galatians 2:26-28; Colossians 2:11-12)

PO Box 1408 Bowling Green, Ohio 43402  |  (419) 405-3222  |  admin@activechristianstoday.org